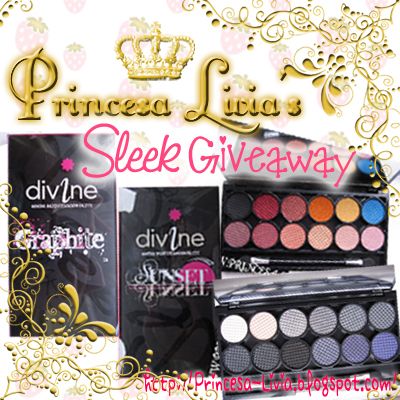 Princess Livia is giving away 2 sleek palettes! ^_^
(one to each winner... so that means 2 winners)
3 Rules of the giveaway:
1. You must be a follower of
http://Princesa-Livia.blogspot.com
2. Comment on
THIS post
saying 'I want in!' with your e-mail address (where I can contact you in-case you win). Only 1 comment per person, otherwise your entry will be disqualified.
3. Blog about this giveaway and link me back your post on the comment from #2!
It's pretty simple, BUT it ends
tonight at 11:59 PM GMT
and it's INTERNATIONAL! :)
Rai is also having a giveaway celebrating her one year blog anniversary! :)

HOW TO ENTER:
1. Must be a follower - If not, just hit that 'Follow' button to the right. I'll be checking!
2. Must be a subscriber - If not, just hit that 'Subscriber' button to the left. I'll be checking!
3. Leave a comment on this post and state your Name, Location(Country), a valid e-mail address, and answer this question: "What items are on your Christmas list this year?"
4. Subscribers: send me an e-mail with the answers to the following in #3.
5. In order for your entry to be valid you must supply answers for everything asked in #3.
6. READ ALL DETAILS CAREFULLY or else your entry may be disqualified.
EARN EXTRA ENTRY:
1.
Create a blog post about this giveaway
. Leave a
separate
comment with a URL.
2.
If you have Twitter, create a Tweet about this giveaway. Leave a
separate
comment that includes your Twitter name. (Following me on Twitter is not required, but please remember to do a tweet including my Twitter Username
@MorenaBarbee
)
Deadline for this one is
December 19, 2009 @ 11:59 CST
!
<333