Hello everyone!
Starting off the new year strong with a bunch of food in my body.
Massive amounts of food + No working out = New
FAT
:( OH WELL.
***
I swung by Barnes&Nobles the other day to kill time waiting to go somewhere. I checked out a lot of random things and then ran into the baking books and grabbed a bunch and sat down and flipped through them. By the time I was finished I was in serious craving of some sweets!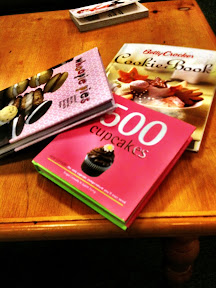 Betty Crocker Cookie Book, 500 Cupcakes, whoopie pies
***
I adored the Maxim Green Tea Lattes that
Amy
had given me in a love pack a while back and they do not sell them in Texas and are always sold out online on mitsuwa :( I
finally
realized I can order this at starbucks and I have to admit it was quite delicious! This will be one of my new regular drinks :)!!
Starbucks Green Tea Latte
***
I've also been having the BIGGEST dimsum craving for the longest time and I finally got a Sunday off to grab some :)! I went to
Kowloon
in Arlington, TX because it was the nearest location to me that had a decent selection. I was so hungry and just dug in without thinking of taking a picture so I snapped a quick one after half the food was gone :P
shu mai, hargow, bbq pork buns, shrimp balls, jasmine tea
***
My friend and I grabbed dinner at the new location of
Pho 95
off Cooper in Arlington, TX. I live near another location which is a lot older and has been around forever. The new location has a bar and looks really fancy! I think it's more catered to the non-asian customers lol, and they actually do an awesome job of refilling drinks :D! Best thing is it's the same prices as the one near my house so that's a definite plus ;)
pho, BBQ pork with steamed rice, eggroll, and soup on the side
***
I took my younger cousin out to eat for his 17th birthday, graduation, and 18th birthday...
finally
! I told him I was in the mood for hibachi and ask if he had a preferred place so we ended up at
Shogun
in Southlake, TX. The place was very small compared to other hibachi places I've been to and I didn't realize he's only been to one. We got there after dinner time was over so there wasn't anyone else eating while we were, just getting ready to leave. The cook was mediocre during the show and staff seemed like they were ready to close shop and leave. I'm just glad the food was yummy!
Sauteed vegetables, scallops, shrimp and steak
***
Some friends and I stopped by braums after dinner one day. I finished every last bite of my meal and I had the banana split and finished that too lol! I was SOOO hungry. One of our friends missed the dinner memo so he ended up buying a burger at braums.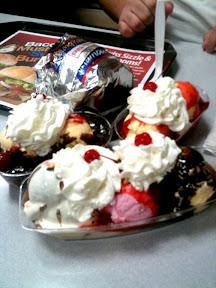 burger, strawberry shortcake sundae, black forest sundae, old fashioned banana split
***
Co-workers and I went to TGIFridays in celebration of my co-worker Cassie turning 20! Cheers to her, she's finally old! I had the parmesan crusted chicken which is a crispy chicken breast served with cheese tortelloni in spinach alfredo sauce which also came with a tomato-mozzarella chese salad. Quite yummy if I recall! :)
parmesan crusted chicken
***
That all the food porn I have from the past couple of weeks, I guess I haven't exactly documented every meal I'm ate/made because I'm always so hungry and dig right in! PLUS my iphone camera is pretty crappy as you can tell :( OH WELL!
I'm planning on making an eyebrow tutorial :) Just depends how the video comes out will be whether I post it up or not! Hopefully nothing malfunctions lol.
Good day to you all :P
<3