Hello all!
Somewhat an outfit of the day post.. LOL, I went [window] shopping yesterday because I am broke but I had to make a run to MAC for an empty palette so I can finally depot some eyeshadows since they're getting no love in the pots :(
I had to make the trip worth it because it was a FAR drive so the boyfriend and I spent almost 5 hours there shopping ;)
I just grabbed a bunch of clothes and thought what the heck, I'll try to put some outfits together. Mind you, I am not a fashionable person and just like to wear what's comfortable. Too many pieces and then I'm confused what to do with it so I'll keep this simple!
***

OUTFIT 1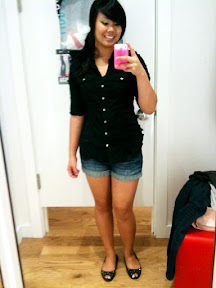 Express
shirt |
Express
shorts
I really liked the fit of the shirt so I'm gonna go back for it when I get paid! I just wished they had a red color :(

Shorts however were too big. I tried on a size 4 and they were massive, size 2 were still loose, but I didn't bother asking the lady to get me a size 0 because I wasn't going to purchase anything :X

***

OUTFIT 2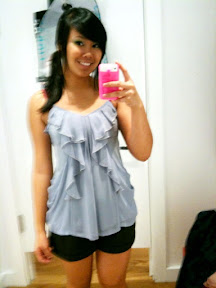 Express
shirt |
Express
shorts
The shirt fits really nicely on me and is super comfy! I may go back for this too when I get paid but I'm not completely sold yet because of the color selection. I would want this in a deep purple shade or a deep pink shade. Something a little more bold and not so pastel-like.

Shorts were also a size 4, huge again but these were a little more forgiving in looks lol. They're a dark charcoal shade although the lighting doesn't agree. If the price wasn't so steep on these I'd consider buying them but I'd rather go with something cheaper at forever 21 although these feel like they'd last a long time.

***

OUTFIT 3

Express
shirt |
Express
shorts
I think express really nails the ruffle shirts. They're not too small yet it's not too big. The material they use also drapes really nicely and the way the style of the shirts are also compliments the ruffles! I really liked this one too, plus I like shirts that aren't short since I feel like my torso is longer than other peoples.

Same shorts as outfit 2.

***

OUTFIT 4

Gap
Dress

I AM IN LOVE WITH THIS DRESS! :) I would've gotten it if it weren't for the steep $70 price tag. Plus I have a closer gap to me so I could always go back for it. I tried on a size 2 and it looked a little big. The lady went and got me a size 0 and it fits like a dream! It has a small elastic waistband that cinches your waistline giving you shape although it's very loose and flowy. There's also a ruffle-type thing that goes down one side but you can't tell in the picture, more of an in person type of thing.

I do notice that in the stock picture it looks shorter. Guess that's where my stubby asian legs kick in LOL. Still a great dress because the fabric seems very nice and that it'll last a long time!

***

OUTFIT 5

Urban Outfitters Dress

I took my bra off to try this dress on and it still looks a little snug around my chest! I could've opted for a medium instead of a small but again I wasn't buying anything. I had trouble zipping the dress up on my own so it's halfway zipped in the photo lol. It's cute but it's cuter on the hanger type of dress for me.

I tried to find this on the website but no luck! Sorry :(

***

OUTFIT 6

Urban Outfitters Dress
A very unflattering picture of my legs LOL. Yes, I have huge fat girl legs but not so fat body!? I don't understand how they got so big -_- ... lol.

I didn't wear a bra for this dress either. The strap detailing was sooo pretty but they're unadjustable so it ended up loose on me since I'm lacking on the bust area :P I think if there were only 3 straps instead of 4 it would've fit better too! The back has snap 4 or 5 snap closures and then there's a bra-like hook closure for the very top. I thought the back was gorgeous but too bad I didn't get a photo of it! Also, it's not on the website :(

This dress was really nice, if there weren't so many flaws with it I would totally consider a future purchase!
***
That's basically it for the outfits! I tried on a few more at urban outfitters but they didn't look so good so I just didn't take a picture. Went to forever 21 and there were so many people so I was like "forget it I'm leaving!"
I'm off to make a haul post and a fotd post of my mall trip! :)
And then more haul posts from past purchases -__- yes, they're very late and I hope they aren't too want-worthy because I'm not sure if they're still available D:
Expect more posts from me today :P
<3
- Posted using BlogPress from my iPhone